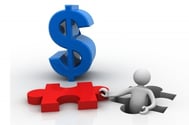 Debt recycling is the process of replacing mortgage debt, or bad debt, with investment debt, which is known as good debt.
This strategy enables investors to start building wealth while they're still paying off their home. As equity is built up in their home, funds are re-drawn and invested. Income from these investments can be used to further reduce the mortgage balance, while the growth component contributes to wealth accumulation.
This is how debt recycling worked for one couple.
Mark and Jane have built up considerable equity in their home, and upon advice from their financial planner decided to make that equity work harder for them. The couple currently owes $240,000 on their home, which is valued at $400,000. Their licensed planner recommends Mark and Jane implement a debt recycling strategy, refinancing their current loan to give them a $300,000 loan limit. This releases $60,000 of available equity for investment.
Mark and Jane's planner recommends they invest their $60,000 equity into a portfolio of managed investments specifically chosen for income potential. After one year, their portfolio has grown in value to $65,000, and yielded an income of $4,000 which is used to reduce their mortgage further. After regular loan repayments, their mortgage balance is $230,000 after the first year. The couple then draw the extra $10,000 in equity to make an additional contribution to their investment portfolio. This process is repeated each year until their mortgage is extinguished.
As with any strategy there are risks that need to be considered with a debt recycling strategy
Risk is increased with market volatility.
Debt recycling involves borrowing additional funds and this means that any capital gains made on the investment are magnified. However, the reverse can also occur with capital losses magnified.
Discipline in spending needs to be maintained. If this gets out of control then there is no guarantee that you will actually repay your home loan.
This strategy involves a high level of debt so employment security is a must.
To be able to support this strategy over a long timeframe you must have a high tolerance to risk.
Debt recycling can benefit investors prepared to invest not just funds, but also time and patience. It is certainly not a strategy that is suitable to everyone. To learn if it would be appropriate for you, contact our financial planner who can discuss this strategy with you further.
For more information about financial planning
Take the Financial Planning Trust Assessment
GTC Financial Services Pty Ltd is a Corporate Authorised Representative No 314227 of Futuro Financial Services Pty Ltd ABN 30 085 870 015 Australian Financial Services Licence No.238478.
The information contained in this document is by way of a general summary only and has been prepared without taking into account any person's individual objectives, financial situation or needs. Before making any decision a person should consider the appropriateness of the information to their individual objectives, financial situation and needs and if necessary seek advice from a suitably qualified professional.
Image courtesy of cooldesign at FreeDigitalPhotos.net
Contact us for an obligation free appointment