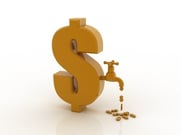 Tough trading conditions have left many small businesses short of cash. Cash flow problems can be a symptom of issues in your business that go undetected when times are good. These issues could be any one, or a combination of the following.
Too much stock
Your cash flow woes might be the result of excess stock still sitting on your shelves.
Carry out regular stock takes to find out how much stock you have. How many days trading does it represent, if it's more than 30 days it's too much.
Take steps to get your stock back to a reasonable level – e.g. Discounts, sales promotions etc. This is especially important with older stock. Don't let it go "stale".
Check stock orders to ensure that only necessary items are being ordered.
Trade Debtors - Are you acting as your customers bank?
A sale is not a sale until the money is in the bank.
Don't automatically open accounts for customers, have them apply and ensure you do credit checks first.
Make sure your terms of trade are clear on all your documentation, especially invoices and state when their payment is due.
Make it easy for customers to pay, given them alternatives like credit cards and bank transfers.
Follow up outstanding amounts promptly. Make the call and get a commitment.
Have a strong process when customers are really dragging the chain, this could involve legal action.
Are you actually selling enough to cover your costs?
Have you done your breakeven calculations? Doing so helps you focus on what you need to sell each day, week or month to cover costs. Break this down further into indicators that can be measured like the number of customers each day or what the average sale needs to be.
If your break even looks unrealistic maybe your overheads are too high. Review all your costs, are they really needed? Cut back on luxuries, negotiate better deals with your suppliers, reduce your employee's hours and eliminate waste. Benchmarking your business against industry averages is a good way to highlight differences.
In some cases the owners are to blame. If all your living costs are coming out of your business maybe you need to reduce your personal spending. The reality is, if you want your business to survive, sometimes your personal spending habits have to be restrained.
Struggling to pay your BAS?
Many small businesses experience cash flow issues at BAS time simply because it is usually a large amount. The way to avoid the problem is to plan in advance, set aside your GST, PAYG withheld from wages and employee super in another bank account. Do this each week or after each pay run so the money is there when your BAS when it is due.
If your business is struggling with cash, talk to the team at GTC Financial. We act as Chief Financial Officer for many businesses and help you identify what is causing your cash flow problems and work with you to get things back on track.
Take the Business Improvement Trust Assessment
Image courtesy of sscreations at FreeDigitalPhotos.net
Contact us for an obligaton free appointment.