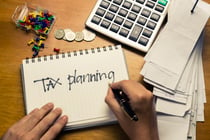 A business client of ours is having a particularly good year. In order to help them take control of their tax position, we scheduled a tax planning meeting.
While the business is strong now, they predict that their business is likely to face much tougher times in the next financial year. While our client wants to minimize tax they also want to keep cash available to help them through the leaner times ahead.
Knowing this, we focused on strategies that would;
Delay income to the following year, and

Bring forward expenses to the current year.
We made sure cash wouldn't be wasted on unnecessary deductions while ensuring that they get to save tax.
After estimating this year's tax position, we agreed with the client that they should;
Prepay interest on their business loans.

Ensure that their employee superannuation for the April to June quarter was paid by 30 June.

We reviewed their debtors list with our client and wrote off all bad debts by 30 June, so they would get a tax deduction this financial year.
None of these actions required any additional cash, the interest and superannuation were payable anyway. Our actions were focused on the timing of particular expenses to achieve the best tax result.
We then scheduled a meeting in mid-June and identified those jobs where billing could be delayed till the new financial year. Delaying billing is always a cash flow juggle because even though invoicing may have only been delayed a couple of weeks, it would mean a delay of over a month before the cash was collected.
By implementing the above strategies, our client will have a good idea of their tax position. They will also get to save a significant amount of tax this year and get to keep cash for the following financial year where it is likely to be needed most.
This is just one example of how we work with our clients to achieve Financial Independence.
CONTACT FORM